Pony and Horse Activities at the Farm
.
Pony Experience
There's nothing quite as cute and impressive as watching that perfect partnership of child and pony !
With this activity children can develop a host of positive traits, including patience, level-headedness, empathy, kindness and responsibility.
Suitable for children up to 6 years
Max. 3 children with 1 pony
No prior experience required
Duration: 30-45 mins, depending on the number of children
Price: 15 euros for 1 child, 10 euros for each additional child
This activity begins with handling and caring for a pony and even the smallest horse-fans can feel a unique spiritual connection to their pony-friend. After brushing and cuddling their pony, the children are welcome to experience pony riding in our arena.
.
.
Interact with Horses in Liberty
Come and feel with us the atmosphere of our peaceful land, enjoying the warm sun on your skin . You will meet our group of social horses in liberty in their paddock.
You can observe, feel and touch our horses, take photographs of them and return home with the great impressions !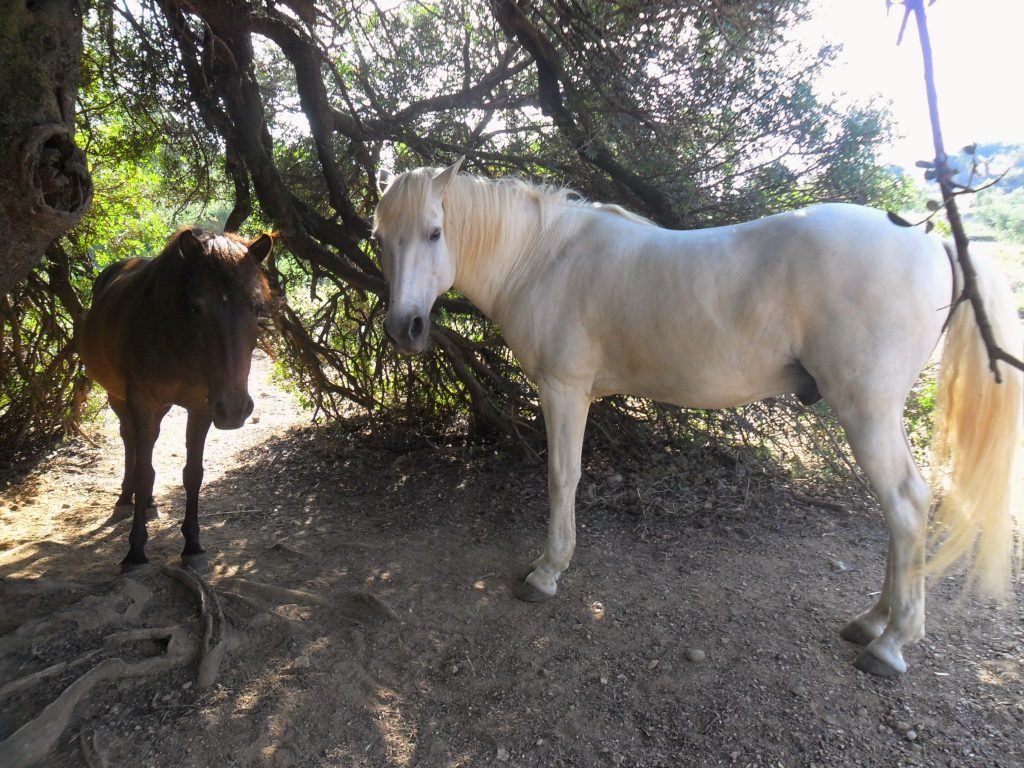 Suitable for children over 5 years, adolescents and adults
No prior experience required
Duration: about 60 mins
Price: 30 euros up to 2 persons, 5 euros for each additional person
Under our guidance you can experience an unforgettable hour among our herd. Most of the times horses are curious to come up to you, to feel you, touch you, smell you and lick you. That's how horses show affection and if you let yourself to feel those great emotions, you will be impressed of the intense connnection that will arise.
We invite you to connect and interact with our social and sensitive equines and to learn about horse affection, charater and behavior.
.
.
Greative Ground Activity
Would you like to get in deeper touch with one of my ponies or improve your communication with horses?
Then, let us arrange a groundwork-lesson in the riding arena and you will receive hands-on guidance in horsemanship skills to walk safely and mindfully with your 'own' horse.
Suitable for children from 8 years old, adolescents and adults,
Max. 2 participants
No prior experience required.
Duration: 45 mins.
Price: 25 euros for 1 person, 40 euros for 2 persons.
By communicating at 'eye level' with our horse partners, we can develop the basis for confidence in order to perform better in our equine-human relationship.
You will first learn where your horse loves to be touched and massaged. Afterwards you will walk together learning body and mental language and something deeply transformative will happen within the moment you align with the powerful rhythm of the horse. Special exercises, suitable to fit anyone, will help find that clear communication.
Each of my horses has its own, interesting personality. For sure we can find the right horse partner for you !
.
.
Riding Lessons and more
My goal, by educating leisure riders, is that horse and rider move in a harmonious way so they can experience how joyful it is to feel 'one' with the horse .
Suitable for children over 6 years old, adolescents and adults up to a weight of 85kg/13 stones.
No prior experience required.
Duration: 60 mins
Price: 30 euros for 1 person, 50 euros for 2 persons, discount for 5 lessons available.
Riding lessons take place in the arena. Occasionaly, we also go up to the hills nearby. Normally I teach 1 or 2 riders per lesson, so I can achieve a holistic experience to each rider.
I focus on the partnership dialogue alongside the horse and on the horse, as well as on teaching a safe, relaxed and athletic position on horse. Different gymnastic exercises and games will help you relax and position your pelvis well centered.
Following trustfully the movements of your horse will lead you to a balanced and magical ride .
.
You will improve your body awarness and your 'feel' which is very important in a rider's development. Feel is the invisible quality in every good rider who is communicating with his horse in harmony.
You will learn to communicate with the horse in a clear, sensitive and relaxed manner and, as a result, the horse will accept your seat, leg and rein aids through the connection.
Ground base exercices, grooming and massaging will also help you develop a deeper connection. While caring and playing with 'your' horse you will become in-tune with the horse's reactions and feelings.
Practicing with all these skills you will produce knowledge about your 4 legged companion, but also about yourself. Horses are great teachers of self-awareness, because of their ability to read human body, emotions and thoughts, to mirror them and to provide an instant reaction. They will also teach you about personal space, body language, trust, fear, fondness and more. Horses are straightforward in their relationships so interacting with them is a useful lesson in all aspects of life.

.
Do you want to come regularly once a week for a lesson? Please ask for our special offers.